The Zyzz pose is an iconic bodybuilding pose that has gained quite a popularity on social media in the form of videos and memes. But the Zyzz pose was reportedly first performed by the late Aziz Shavershian, a bodybuilder, model and influencer.
In this post, you will know everything about the Zyzz pose and the creator of this pose Aziz ZYZZ Shavershian.

Let's begin.
The buzz about Zyzz pose
If you are on social media, then you might have seen the viral zyzz pose. The zyzz pose name is actually called "the Zyzz pose". The Zyzz name is the nickname of Aziz Shavershian. As this pose is popularised by him this pose is referred to as his nickname – Zyzz.
Generally, most memes and trends hit their breakout point within a few years. But the popularity of the Zyzz pose has aged quite a bit.
Before Zyzz's death, he performed this pose many times and that is before 2011 but still, at the present date, you can see many bodybuilders imitating the Zyzz pose and posting it on social media and even some people performing this pose on bodybuilding shows.
As you read more you will know more stories about this pose.
The creator of the viral Zyzz pose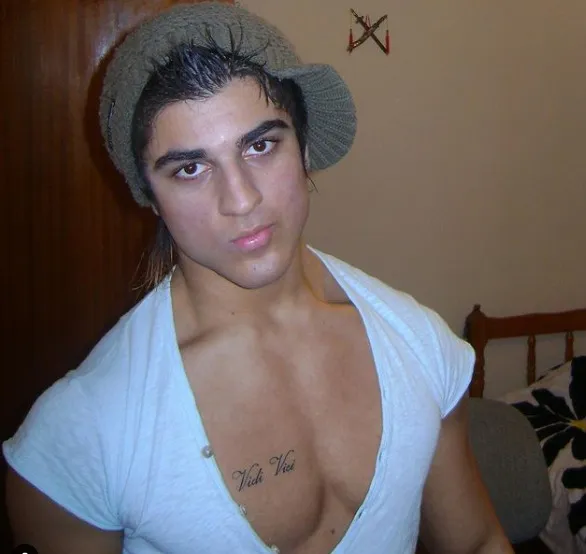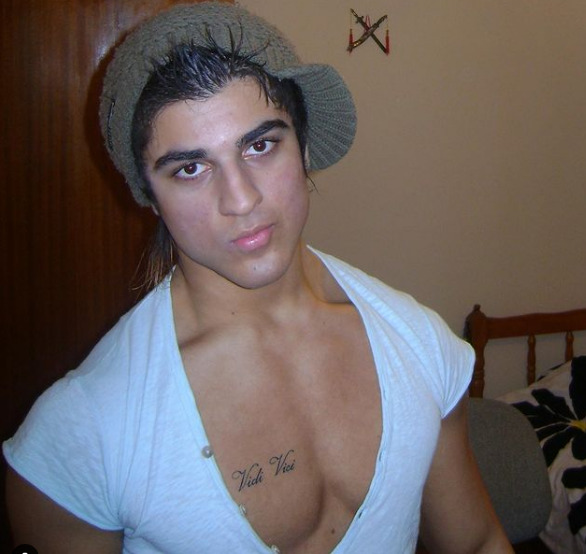 It's reported that the creator of the viral Zyzz pose is Aziz Shavershian. The viral pose is also named after him. The pose is called 'Zyzz pose' – which is the nickname of the bodybuilder and model "Aziz Shavershian".
It's quite hard to tell when was the first time he performed the Zyzz pose. But he performed the pose quite a few times before his death. So the Zyzz pose is first performed somewhere around 2010.
Before Aziz's death, he gained fame performing the Zyzz pose on social media. He went viral both on bodybuilder.com forums and on 4chan. According to sources, the Zyzz pose went viral in 2010.
How to do zyzz pose
How to do the zyzz pose (step by step)
Everything you need to know about how to pose for the perfect zyzz pose.
Step 1:

To do the zyzz pose first you need to stand with your feet shoulder-width apart. Then you should slightly lean into one side and keep one leg backwards.

Step 2:

Now you need to twist your hips and engage your core to make your abs more visible.

Step 3:

In step 3 you need to flex one of your arms to show the peak of your biceps. While flexing your arms you need to make sure that your hand is behind your shoulder.

Step 4:

On the other hand, put your pinky and ring finger down and keep the other three fingers straight.

Step 5:

In the final step, you need to keep the other hand that you are not flexing in the air and flex your both biceps and look to the sky. This is how you do the zyzz pose.
Result
Here's a video on how to hit the zyzz pose.
More about Aziz Shavershian also known as "Aziz ZYZZ Shavershian"
In this section, you will read more about Aziz Shavershian the creator of the viral pose named after him called the Zyzz pose.
Aziz Shavershian also known as Zyzz was born in Russia and later became a citizen of Australia. He was born on 24th march 1989.
Aziz Sergeyevich Shavershian by profession was an Australian bodybuilder, model, personal trainer and social influencer.
According to Wikipedia, he gained his following in the year 2007 after posting several of his videos on YouTube.
It's also reported that in July 2011 Aziz (Zyzz) gained more media attention after media outlets published about the arrest of his older brother for illegal possession of anabolic steroids.
Zyzz death
Aziz Shavershian died at the very young age of 22. On 5th august 2011 while on a vacation in Pattaya Thailand, he died from a heart attack.
Mentioning Aziz's death his family stated that before his death he had shown minor symptoms like high blood pressure and occasional shortness of breath a few months before his death.
It's also reported that Aziz's family had a history of heart problems.
As per Sydney Morning Herald Aziz's death was the sixth most searched death-related topic in Australia in the year 2011.
History of Zyzz pose and related poses done by others
In bodybuilding, it's not uncommon to see similar poses with a little variation. In the case of the Zyzz pose, there is one similar pose that looks quite similar to it.
Arnold Schwarzenegger's iconic javelin thrower pose closely resembles the Zyzz pose.
Arnold zyzz pose
If you closely look at Arnold's Zyzz pose then you will see in many places that Aziz's Zyzz pose is similar to Arnold's.
Also, you should know that Aziz was inspired by two bodybuilders one is Arnold Schwarzenegger and another is Frank Zane.
So it's not unnatural if the Zyzz pose is similar to Arnold's javelin thrower pose.
If you compare the Zyzz pose to Arnold's javelin thrower pose then you can see the upper body stance in both the poses is quite similar.
Where's in Arnold's post one hand is straight and on the other side in Aziz's Zyzz pose – one arm is much more relaxed and a little bit curved.
The major difference is in the lower body section of these two poses.
In Arnold's pose, two legs are firmly placed and straight but in Zyzz's pose one leg is placed forward and there's also quite a bit of twist near the hip.
Although it can't be said if the Zyzz is a copied version of Arnold's javelin thrower pose or not. But both poses are very similar to one another if you look closely.
As Aziz followed Arnold, it's not uncommon that he might get inspired by Arnold's pose.
Conclusion
It's quite strange that the Zyzz pose is still in the news and popular among bodybuilders after going viral in 2010. Where most popular trends get vanished after a few years or even after some months but the Zyzz trend is still going strong.
The creator of the Zyzz pose died at a very young age of 22. But in his memory, his followers will remember his iconic Zyzz pose.
When you see the Zyzz pose for the first time you may not know the stories related to it. But the Zyzz pose is not just a pose anymore it's much more than that for the followers of late Aziz Shavershian.
FAQs
Did Zyzz invented the pose?
The zyzz pose is invented by zyzz himself. Zyzz is the nickname of the late Aziz Shavershian. A bodybuilder and influencer by profession.
His full name is Aziz Shavershian he became famous on social media after he invented the zyzz pose. Aziz was a Russian-born Australian bodybuilder by profession.
Yes, zyzz wrote a book a few months before his death. The title of his book is Zyzz's Bodybuilding Bible, where he talked about the bodybuilding knowledge he gained during his training.
Zyzz died from a heart attack in Bangcock. He died on 5th august 2011 at the age of 22.
Photo credit: Aziz Shavershian Facebook | Aziz Shavershian Instagram.