Watching vlogs on YouTube can be entertaining, fun, inspiring and sometimes you can learn something cool. In this post, you will find some of the popular Youtube vlog channels that you will enjoy watching.

If you are reading this article then I'm sure you wanted to find out more about top vloggers on youtube or wanted to check out some of the best vloggers in the world. In both cases, you will find this article helpful.
So, without further ado, let's check out some of the famous youtube vloggers.
15 Best Vloggers On YouTube & Their Vlog Channels
1. Casey Neistat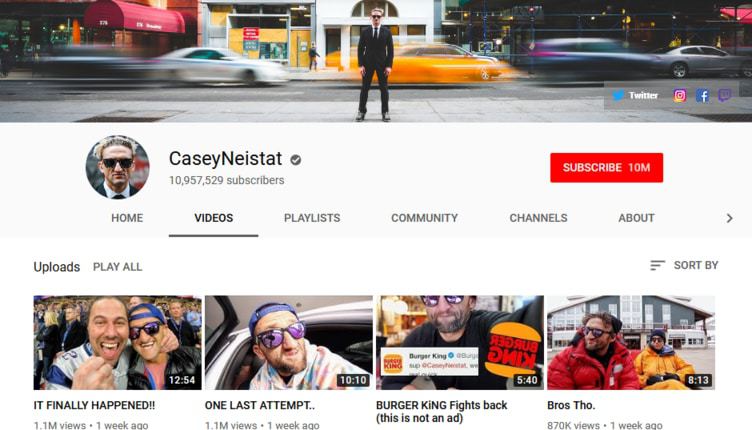 Casey Neistat runs one of the most popular vlog channels on YouTube.

Here's how people describe Casey Neistat – "He is not just a famous youtube vlogger… he is an inspiration for other bloggers."
Casey was born in 1981 and he lives in New York City. He never went to any film school but you can see his professionalism and creativity in every vlog he uploads on YT.
Also, Casey Neistat is one of the oldest professional vloggers in the world. Joined youtube on February 15, 2010.
Some of his awards: Winner of John Cassavetes Award 2011, Winner
Of Streamy Award 2015 (best cinematography), Shorty Award for YouTuber of the year 2016. Source IMDb.
What you will like most about the videos and vlogs he makes – His storytelling skills, how he connects everything… and most of the time you will learn something new.
Reasons to watch & subscribe to Casey Neistat:
He is adventurous, down-to-earth and humble.
You will never get bored watching his vlogs.
He shares his views on life, philosophy, and productivity from time to time… you can easily get inspired by watching it.
You will learn different things while getting entertained.
2. RomanAtwoodVlogs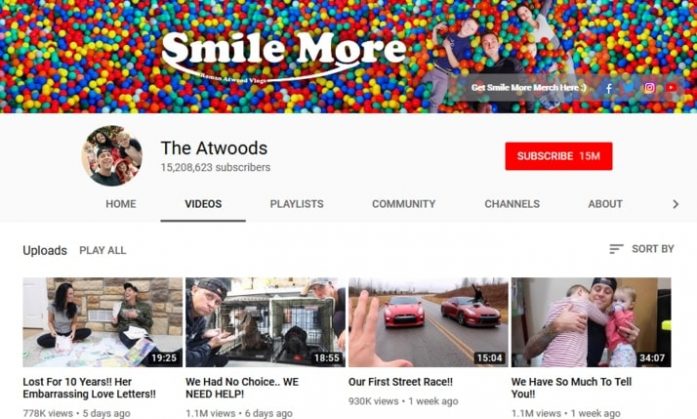 If you love kids then you will like this vlog.

Roman Atwood is behind the vlog channel The Atwood's vlog. He vlogs from Ohio.
His channel is family and kid-friendly. On his channel, you can see many hilarious prank vlogs, family outdoor hangouts, supercars, dirtbikes and much more fun stuff.
3. Nas Daily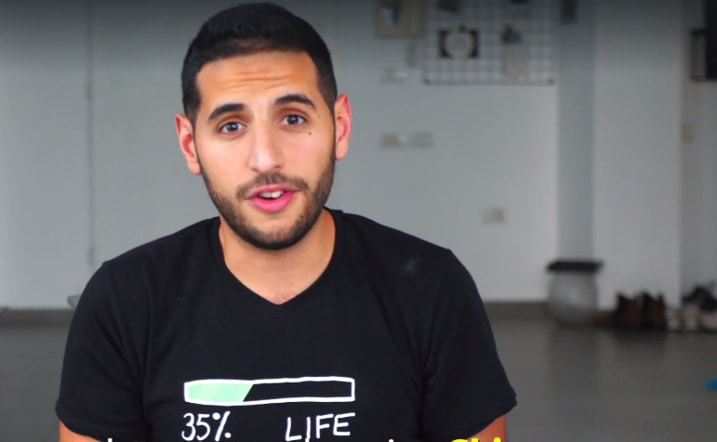 Nuseir Yassin started vlogging every day for 1000 days straight. He published his one-minute video vlog on his Facebook page. He described it as his journey… while travelling the world. And people loved it because he was presenting reality in a fun way.
All of his videos have some message to improve the world and how you and I can make small efforts to be a part of it.
Nus travelled the world's most beautiful, remote places with his camera and captured the culture, people and their emotions.
Also, he showed the world how people feel about others and it's not what most of the media portraits. You should definitely watch his vlogs if you want to get inspired to change for the better.

You can visit Nas Daily on YT to watch his popular videos.
4. Mo Vlogs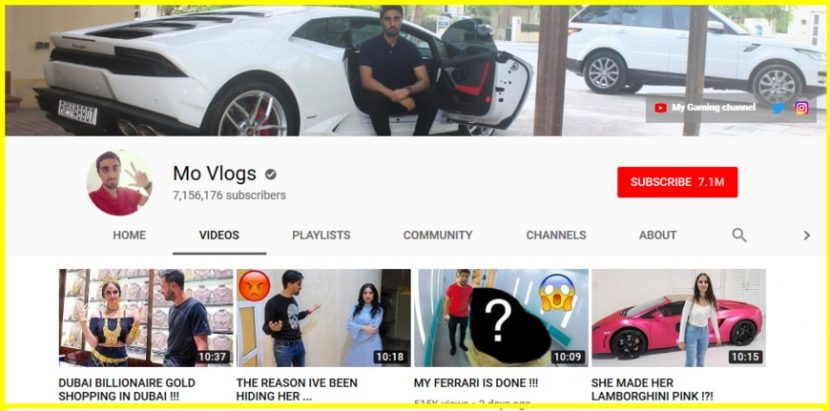 Want to see how Dubai's rich kid's lifestyle looks like?

Mo Vlogs is Dubai's #No 1 vlog channel and vlogger.
In his vlog channel, you can see expensive supercars, mansion tours, luxury collections, privet zoo, some of the tallest luxury hotels in Dubai and other fun things.

Basically, you can watch every cool place in Dubai on his vlog.
What's special about Mo Vlog is he vlogs every day. Literally, he publishes one video every day. And he makes his every vlog interesting.
5. Mr Ben Brown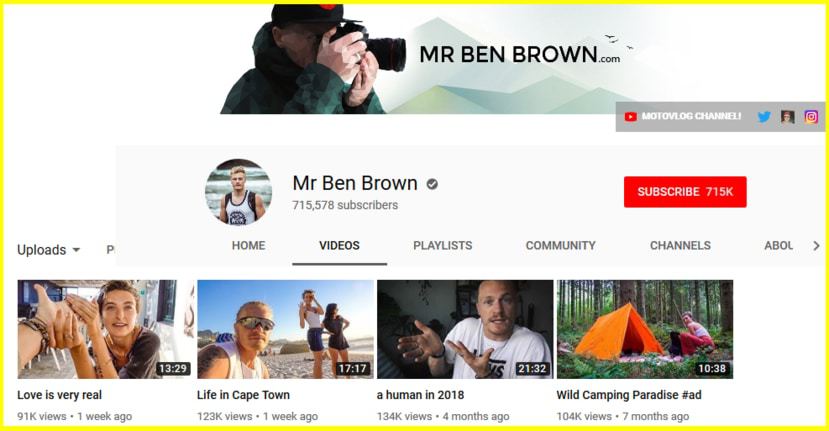 He is a British vlogger, filmmaker, and photographer from London. He loves travelling and on his youtube channel, you can see a lot of travel vlogs. If you like nature, oceans and aquatic life then this vlog is best for you.
Some of his amazing vlogs are ARCTIC – Visual Vibes, surfing the Maldives, Canada visual vibes, Lake Louise snowboarding.

What's special:

This man is a pro when it comes to shooting videos. Words can't explain it… you have to see to know how cool his videos are. What I can say is "Your eyes will enjoy watching his videos."

Here is a collection of his videos on youtube… watch anything with 'visual vibes' in the title… you'll love it.
6. Logan Paul Vlogs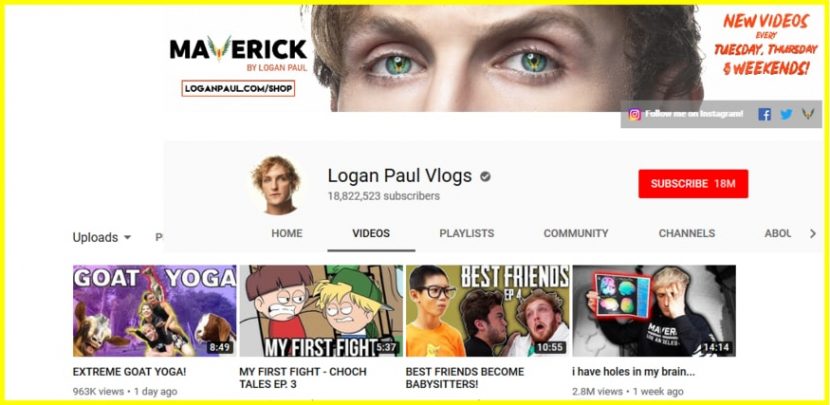 Logan Alexander Paul vlogs from Los Angeles, California. In his vlogs, you can see some crazy pranks and action-packed entertainment.

He is one of the top social influencers in the world. He has 18 million youtube subscribers on his youtube vlog channel and 16 million followers on Instagram.
Most of his fans are young. If you are below 25 then you can relate to a lot of stuff that he shares on his vlog channel.
7. Tanner Fox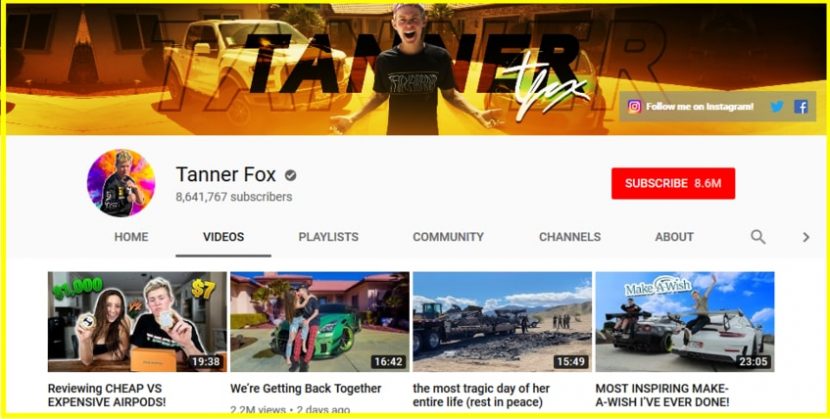 Tanner Fox is a young youtube vlogger who vlogs from San Diego California. In his vlog channel, you can see him doing backflips, playing with trampoline, driving fast cars, pranks, challenges and adventure videos.
His vlogs are interesting… you will enjoy watching it.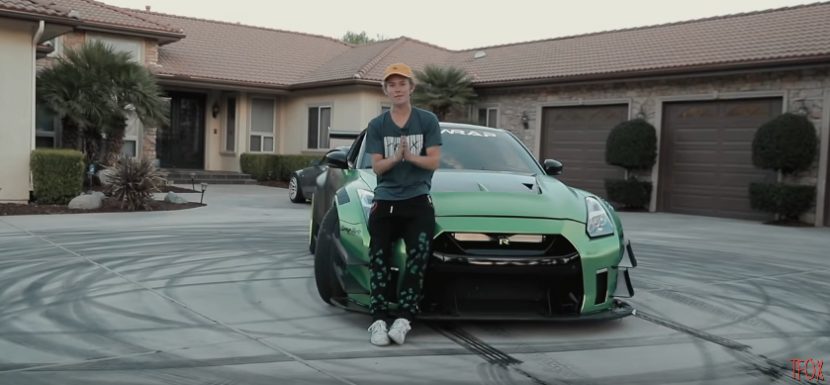 8. Tanner Braungardt
Tanner Braungardt lives and vlogs from Kansas. He is a young youtube vlogger best known for making videos of trampoline tricks, backflip, cliff jumping, bridge jumping types of challenges and adventure vlogs.
In his vlog, you can also see funny challenge videos with his friends and family.
9. Jon Olsson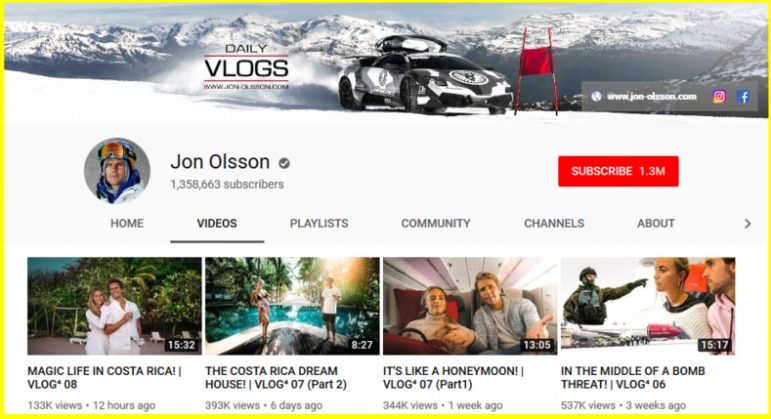 If you are searching for luxury lifestyle vlogs to watch then this vlog channel is for you.
From travelling exotic locations, riding Lamborghini on the snowy mountain, yacht, surfing and all the other fun activities that you can imagine… Jon Olsson's vlog channel has it all.
He vlogs on Tuesday, Thursday and Sunday. Olsson loves to travel and snow ski.
In 2018 he got married to his girlfriend Janni. What's amazing is … they captured it too. Watch the marriage vlog and other top vlogs of Jon Olsson.
10. FunForLouis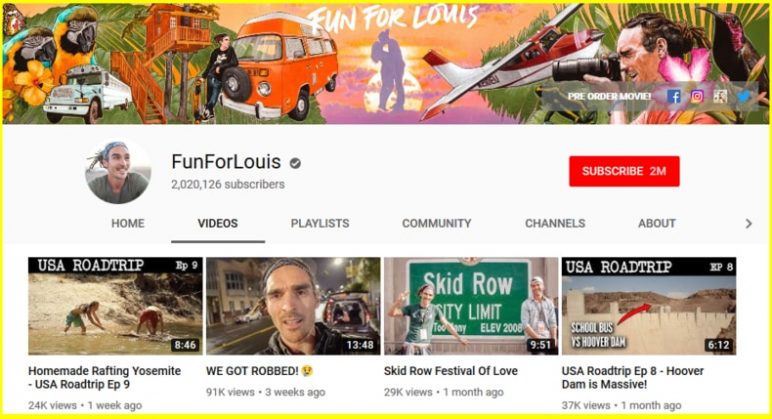 Louis Cole started his youtube channel on 6th November 2011. He loves to make travel vlogs… Also in his vlog, you can watch some practical tips on photography and about cameras.
If you are interested in watching travel and occasional tech vlogs then you should check his channel. He did London to Africa on cycle, North America and South America travel vlogs and many others as well.
11. Gone with the Wynns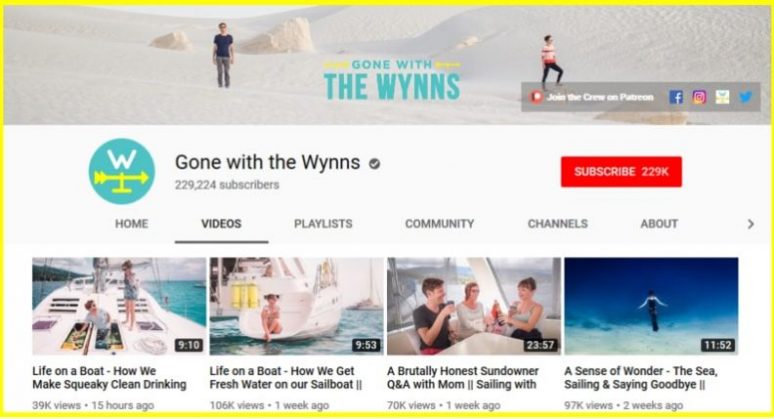 This is the story of Jason and Nikki Wynn. They have a passion for travelling and adventure.
Here's a part of their about page that best describes themselves…
"Hello. We're Jason and Nikki Wynn, a couple of perpetual travellers, Sailors, RV'ers and modern-day documentarians. This is the home of our discoveries and adventures all depicting the unscripted tale of how we traded in everyday life to satisfy our wear-out-your-shoes sense of adventure."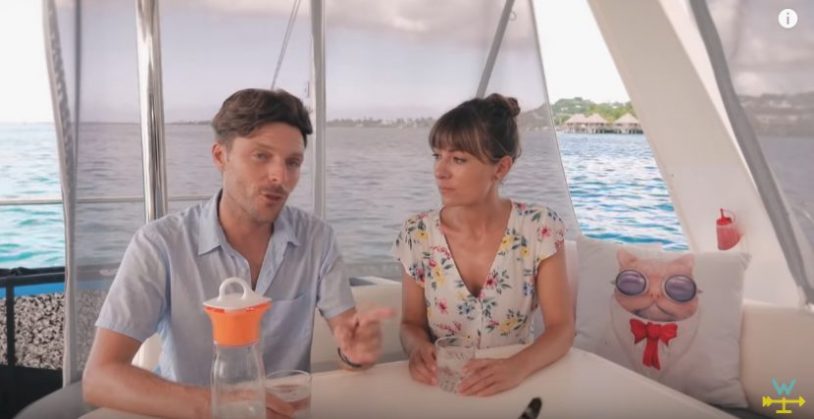 In most of their vlogs, you will see them floating on the blue oceans, sailing on their boat… exploring islands, catching fish and living an unscripted day… every day.

What's special:
You will enjoy watching their vlogs more than popular tv shows if you like oceans, marine life and adventure.
Each of their YouTube vlogs is unique and fun to watch.

If you want to take a closer look at what living on a boat looks like and get some inspiration for your next adventure then you should check their channel.
12. Emma Chamberlain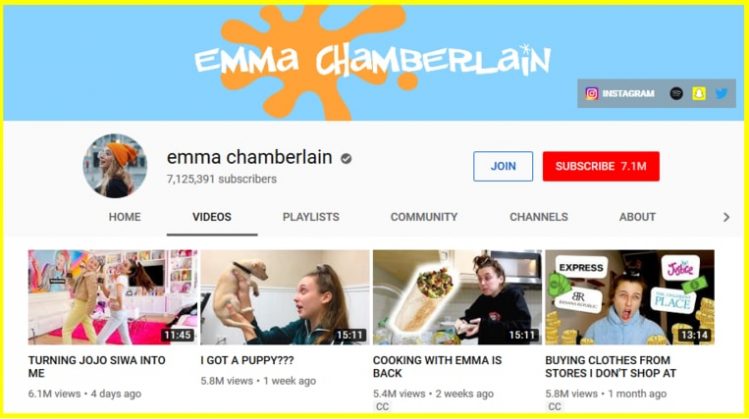 Emma Chamberlain vlogs from San Carlos, California. On her vlog, you can see little fun things which will make you smile for sure.

She makes videos on challenges, DIY trying new things for the first time, cooking with Emma, vegan diet and also makeup videos.
Some of her popular vlogs:
13. Sham Idrees VLOGS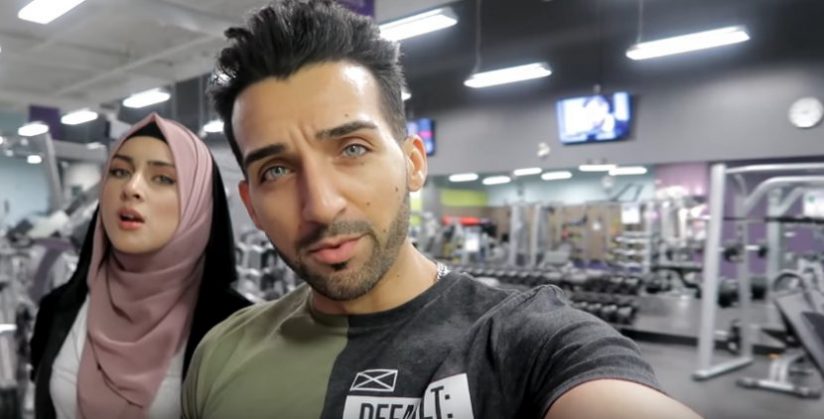 Sham Idrees is a Pakistani musician, vlogger and social influencer. He lives in Canada and also vlogs from there. You can see a lot of fun hangouts and prank videos on his channel. The vlogs are in English language but occasionally they also speak in the Hindi language.
He is best known for making funny videos and for his character Fazal-ud-din.

In his YT vlogs, you can learn a lot of stuff about Asian culture…
14. David Dobrik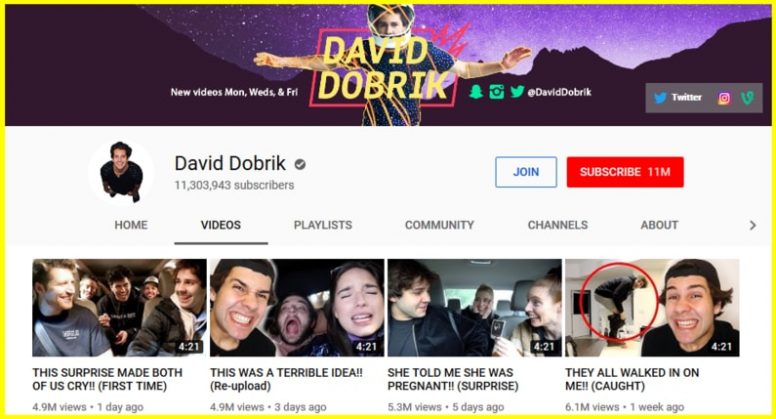 David Julian Dobrik started his youtube channel on December 19, 2014.

His vlog features – surprise and challenge videos and doing fun things with friends. His youtube channel has 11 million subscribers.
If you like watching surprises, pranks and challenge vlogs then this channel is for you.
15. AshleyNichole Vlogs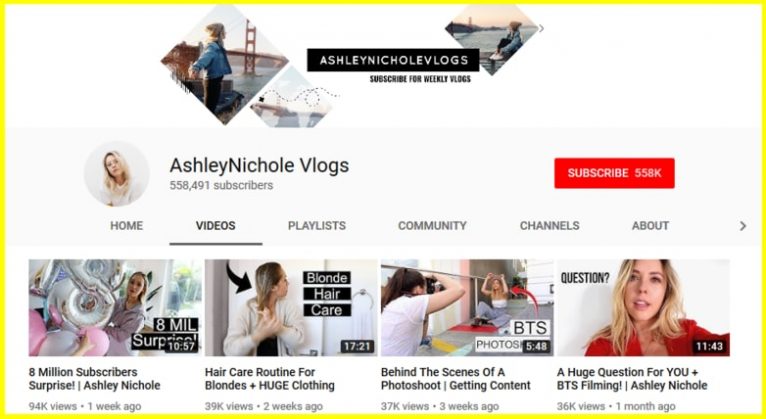 This is a personal lifestyle vlog channel by Ashley Nichole. She publishes a new vlog every week. In her vlog channel, she talks about beauty & makeup, workout and travel tips etc.

If you like watching fitness challenge, DIY home decor, beauty and makeup tutorials and travelling vlogs then you should definitely check her youtube channel.
---
I hope this article on 15 top vloggers on youtube helped you to find some of the best youtube vlog channels you didn't know about.

Check out other articles related to lifestyle from Matey Lifestyle or visit our cover page to discover trending posts. Or you can subscribe to mateylifestyle here.