Healthy food and drinks have a bad reputation for tasting not so good in your mouth. Well, many healthy diet foods actually taste not so great.

But there are plenty of healthy food items that actually taste good.
In this post, I have picked 10 healthy food and drinks which are known for their health benefits and taste good as well.

Let's begin.
10 Healthy Food And Drinks That Actually Taste Good
1. Coconut water
There are many types of water to quench your thirst. But none of them can do a better job than our favourite – coconut water.
On a warm sunny day, there's nothing more refreshing than a glass full of chilled coconut water.
Apart from its heavenly taste, coconut water also has many health benefits:
Drinking coconut water prevents dehydration and ensures proper muscle function.
It contains several electrolytes (magnesium, sodium, potassium) which help in recovery after sweating or playing a sport.
Drinking coconut water helps to promote healthy skin.
Coconut water contains antioxidants.
2. Smoothie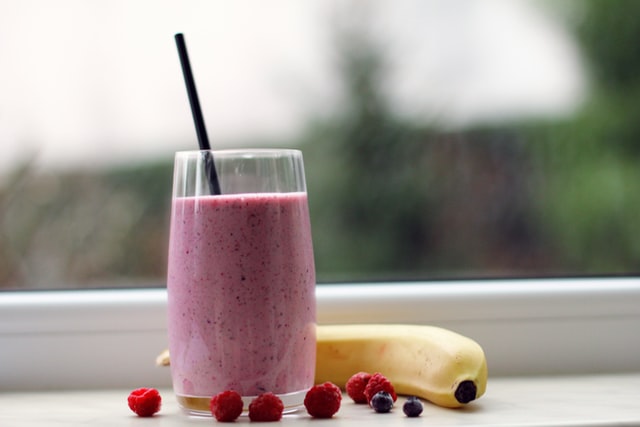 It's recommended for men to drink 3.7 litres (15.5 cups) and for women 2.7 litres (11.5 cups) of fluid or water.

When drinking plain water gets boring, you can try smoothies. Smoothies take less than 2 minutes to prepare and taste good as well.
Most popular smoothies are prepared using water, milk and different types of fruits & vegetables. Drinking 2-3 servings of smoothies can provide your body with ample amounts of fibre, protein, vitamins, antioxidants and minerals.
Want to try out some tasty smoothie recipes?

Head over to our YouTube playlist of healthy & tasty smoothie recipes.

Related: 12 Daily Healthy Habits That Will Set You Up For A Yearlong Healthy Lifestyle
3. Orange juice
Drinking one cup of fresh orange juice can help you to get its amazing health benefits.

Orange juice is rich in antioxidants and several important nutrients such as – protein, vitamin c, folate, potassium and magnesium.
Consuming orange juice can help to prevent kidney stones, improve heart health, decrease inflammation, boost immune system function etc.
4. Lemon water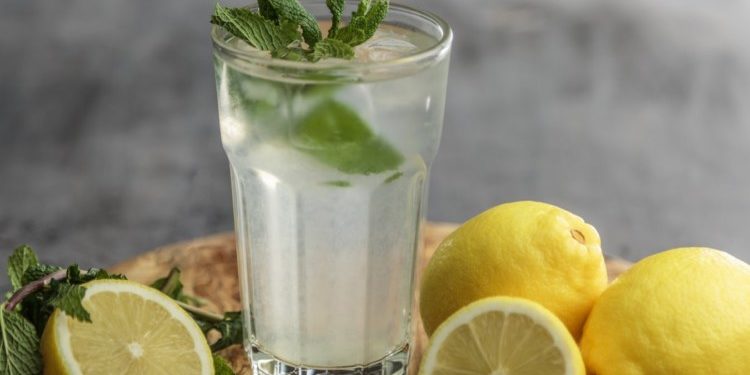 Preparing lemon water is very simple. Take half of a lemon and squeeze it into a glass and add a little bit of salt to get a testy tangy drink.

Even though it may seem like a simple drink. But drinking lemon water has many health benefits.
Drinking lemon water can aid digestion.
Freshens your breath.
Boosts your energy level.
Good source of vitamin C.
Reduces joint and muscle pain.
Related: 5 Popular lemon water recipes.
5. Oatmeal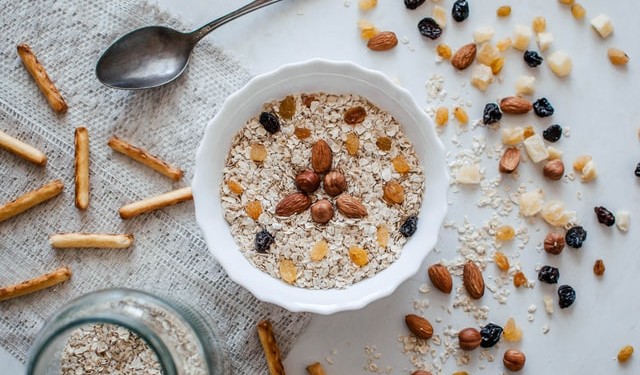 Eating an actual breakfast is much more beneficial than skipping your breakfast in a hurry or even eating a protein bar on the go.

Depending on the oatmeal recipe, it can take 2-4 minutes of cooking time and 2-3 minutes of preparation time. Altogether you can prepare your delicious oatmeal within 8 minutes.
Oats are whole-grain foods. Before packaging, they are normally crushed, rolled or steel-cut to lower the prepping time.
Oatmeal contains well-balanced nutrition. Thus eating oatmeal can provide your body with key nutrients that your body needs to function optimally.
Oatmeals are also packed with antioxidants and fibres which can help in relieving constipation.
6. Popcorn
Is popcorn healthy? You may want to ask.

As a whole grain food, normal popcorn is healthy without added flavours when consumed moderately.
You can add a little amount of salt, seasonings and butter for taste. To avoid unhealthy popcorns – avoid flavoured popcorn such as chocolate popcorn and any other popcorn that contains a high amount of spices.

Related: How to stop eating junk food.
7. Dates
Dates are sweet and tasty. You can add dates to several snacks and get its health benefits.

Eat 6-8 dates every day to get all the benefits of eating dates.
Here are some benefits and facts about dates:
Dates are filled with nutrition such as – iron, magnesium, copper, vitamin B6, potassium, fibre etc.
Dates contain a high amount of antioxidants.
Dates can be used as a healthy substitute for white sugar.
Minerals present in dates can improve bone health.
The presence of vitamin C & vitamin D can promote good skin health.
8. Pomegranate juice
Pomegranate juice is made with pomegranate arils and also tastes darn good.
Benefits of drinking pomegranate juice:
Pomegranate juice contains a high amount of antioxidants.
Can improve digestive health.
It contains anti-inflammatory substances.
May Reduced Risk for Cardiovascular Diseases
9. Peanut butter
While making toast for breakfast, substituting butter with peanut butter is a step toward living a healthy lifestyle.
The main ingredients in peanut butter are roasted peanuts and salt. It can easily be homemade or purchased from the store.
There are many reasons you want to add peanut butter to your everyday foods:
Peanut butter contains ample amounts of protein.
Consuming peanut butter keeps your hunger away (which may help in weight loss).
P-coumaric acid in peanut butter keeps the heart-healthy.
Eating peanut butter helps in preventing Alzheimer's Disease.
10. Roasted vegetables
Eating more vegetables and greens is the way to practice healthy eating. But usual vegetable dishes get boring & our taste buds don't even like to eat those either.

If you want to eat more healthy food and willingly want to eat more vegetables — then it's the perfect time to try some roasted vegetables.
Roasted vegetables are easy to prepare, contain little bits of oil and spices but taste darn good.

Here's a recipe for simple roasted vegetables if you want to try it at home.

Read next: 10 Best Fruits That Helps In Weight Loss.