200 billion US dollars are spent on purchasing junk food every year in the United States. That is why more than a little over one-third (36.6%) of adults in America munch on junk food on any given day.

It's a fact that the easy availability of junk food and its clever marketing resulted in more people consuming more and more junk food every day.
Junk foods do taste great in the mouth but we can't ignore the bad side effects of eating junk food on our health. That's why we must limit our junk food consumption and stop eating junk food every day.

If you want to reduce the amount of junk food you eat then you should replace junk food with other healthy snacks. There are plenty of healthy snacks that can easily replace junk food and they also taste great.

To make it easy for you here is a list of 13 delicious healthy snacks to replace junk food.

So, without further ado, let's check out these delicious healthy snack options.
Why it's important to find healthy fast food alternatives
We do know that eating junk food comes with many side effects. While we enjoy the taste and the satisfaction that comes with eating junk food we deteriorate our health.
To find out why it's important to find junk food alternatives we must be aware of the health problems that come with the side effects of eating junk food.
Here are some of the common side effects of eating junk food:
Increases the chances of gaining body fat.
Can cause type 2 diabetes.
Eating junk food can lead to weakness and fatigue.
It causes fluctuations in blood sugar levels.
It increases the risk of heart disease.
Can trigger digestive problems and many more.
But the most threatening fact about eating junk food is it's addictive and habit-forming.
So, once you form eating junk food as a habit then it gets hard to stop eating junk food.
Thus before your situation of eating junk food gets worse you must limit your junk food consumption.
As we need some tasty snacks to munch on excluding our breakfast, lunch and dinner we must find out the best healthy snacks that taste good and can be used as alternatives to eating junk food.
So, without wasting any more time here are some tasty healthy snacks to replace junk food.
Healthy snack alternatives to junk food
If you care about the taste of your healthy snack then you will love eating these junk food alternatives.
1. Replace coke and sugary drinks with fruit smoothies, lemon water and coconut water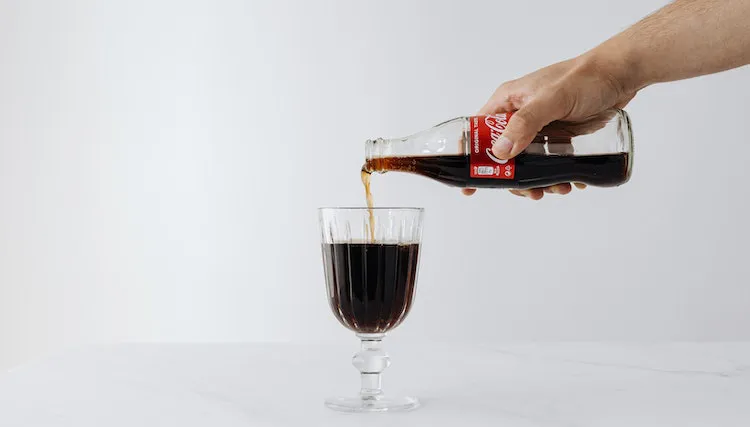 When it comes to soft drinks, most people quench their thirst by drinking coke and other sugary drinks. It's recommended that you keep your sugar intake below 30-35 grams per day. But if you drink 1-2 can of sugary drinks and 1-2 cup of tea and coffee with added sugar then your sugar consumption goes way above the recommended sugar intake.
Thus to lower your sugar intake you have to replace those drinks that contain much more sugar in them. One 330 ml can of coca-cola contains 35 grams of sugar in it. 
So it's better to cut back on sugary drinks as a first priority.
You can replace sugary drinks with lemon water, real coconut water and fruit smoothies.
Lemon water can be prepared within 1-2 minutes and there are many health benefits of drinking lemon water.
Drinking fruit smoothies can help you get many essential nutrients and fibre. You can prepare fruit smoothies with milk and fresh seasonal fruits.
Where natural coconut water is refreshing and tastes good as well. You can read our article about some of the best healthy food and drinks here.
2. Replace sweet chocolate & candies with sugarless dark chocolate
If you currently have a habit of eating sweet and milk chocolate then it's better to replace it with sugarless dark chocolate.
Consuming more sugar can trigger health problems like – diabetes, obesity, cardiovascular disease, non-alcoholic fatty liver disease and many more.
Replacing candies and sweet chocolate with sugarless dark chocolate can help you stay healthy and eating dark chocolate have some benefits too.
Dark chocolate is packed with nutrients and contains antioxidants.
Eating dark chocolate can improve brain function.
Can prevent skin damage from the sun.
May improve blood flow in your body and lower blood pressure.
You should know the fact that not all dark chocolate bars are the same. Some dark chocolate bars do have sugar in them. So be careful when you are choosing your chocolate bar. It's important that you pick a dark chocolate that's high in cocoa content (70%+) and contains low amounts of sugar.
3. Replace salty junk food and flavoured popcorn with plain popcorn
Salty junk food contains large amounts of calories, fat, sodium and cholesterol. Consuming one or two packs of salty junk food can increase your overall calorie consumption. As salty junk foods like Cheetos, Doritos, Takis Fuego etc are high in calories and fat, eating these can increase the chances of gaining fat and body weight.
You will be much more healthy if you replace these salty junk foods with popcorn.
But when choosing popcorn you should avoid flavoured popcorn that contains chocolate coatings and most ready-to-eat popcorn.
Popcorn is healthier when it doesn't contain any flavour and when you prepare popcorn at home.
For the taste, you can keep it simple and just add a little amount of butter and a little bit of salt. Just remember not to eat a lot of popcorn at once.
When popcorn is consumed in moderate amounts eating popcorn is healthy.
Related: How to stop eating junk food at night.
4. Replace ice cream with yoghourt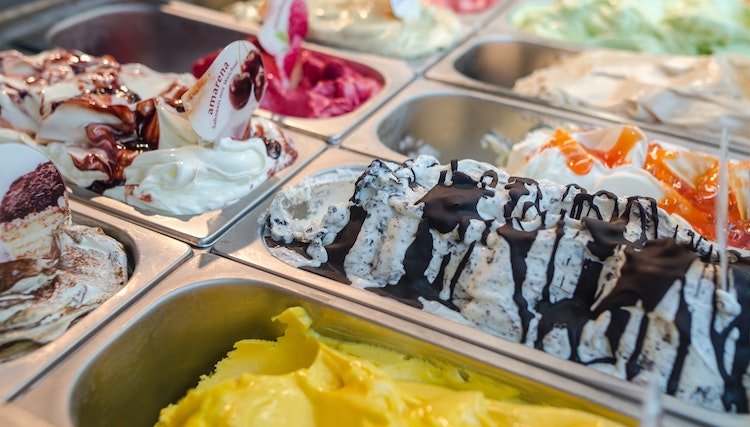 From children to adults, almost everyone loves to eat ice cream. There's no problem when you eat ice cream every now and then. But if you have a habit of eating ice cream often then it can have negative effects on your health.
You must avoid creamier ice cream pints which contain high amounts of calories, sugar and fat.
I should mention that when you consume fat in the frozen form it's much more unhealthy and increases the chances of gaining body weight and fat.
The healthier replacement for ice cream is yoghourt. To further enhance the taste of plain yoghurt you can try adding chopped dry fruits on top of it.
5. Replace potato chips with homemade kale chips
Among many junk foods, potato chips are popular across the globe. But this doesn't make potato chips healthy. Like most other salty junk foods packaged potato chips contain a high amount of calories and fat.
One packet of 50 grams of potato chips contains 274 calories and 18.74 grams of fat.
You can be much more healthy if you replace potato chips with homemade kale chips.
Homemade kale chips are crunchy and do taste good and are much healthier than potato chips.
Here are some of the advantages of replacing potato chips with homemade kale chips:
Homemade kale chips contain fewer calories and fat in comparison to potato chips.
Kale chips contain vitamin A and minerals.
Eating kale chips may help in improving bone health.
Improves liver health.
Eating kale chips promotes healthy vision.
6. Replace cereal with steel-cut oats
Eating cereal is not that bad in comparison to other fast food snacks. But when consumed daily the sugar in cereal and all those added flavours can be bad for your health.
Where oats are a healthy substitution for cereal. If you want to know why you should use steel-cut oats then the reason is whole oats take a long time to prepare. When you use steel-cut oats it takes a fraction of the time to prepare them. And yes if you want to know if steel-cut oats are healthy or not? The fact is – steel-cut oats are not very different to normal oats.
It's only cut into pieces with the machine to reduce the preparation time and does contain nutritional value as compared to normal oats.
7. Replace sugary candy with nuts
In your free time when you have sugar cravings, you might have a habit of eating sugary candies. But as we all know sugary candies are packed with refined sugar and food colour.
To stay healthy you should try to consume less refined sugar. But if you occasionally eat sugary candy then it will make you consume more sugar than it's recommended.
You can easily replace sugary candies with nuts. Nuts do taste great and contain many nutrients in comparison to sugary candies.
8. Replace cookies with low-sugar fruits
When you are not that hungry but want to eat something and there are cookies near you, you might snack on cookies. But if you want to eat more healthy snacks, then you need to stop eating cookies. Cookies contain sugar and fat in large quantities.
One pack of 100 grams of cookies, contains on average – 31.3 grams of sugar and 22.7 grams of fat.
You can eat any low-sugar fruits instead of cookies when you want to eat something but you are not that hungry.
Here are some of the low-sugar fruits you can eat:
Strawberries
Peaches
Blackberries
Guava
Guava
Kiwi
Lemons 
Grapefruit
Oranges
Avocados
9. Replace french fries with roasted vegetables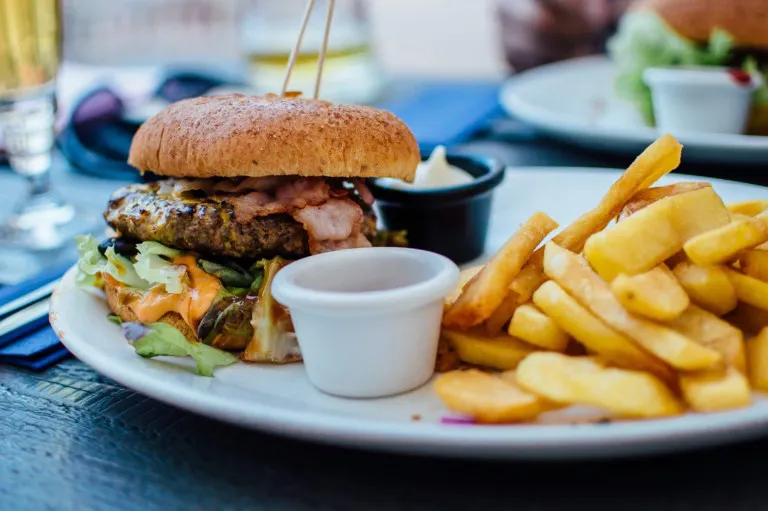 French fries are a popular snack option for many people. Many eat them for breakfast and some also love to eat french fries as a snack. But nutritionally french fries are not that healthy. In 100 grams of french fries, there are 274 calories and 14.06 grams of fat.
In comparison to French fries, roasted vegetables are a much healthier option.
When you eat roasted vegetables they are not deep-fried in oil thus they hold much more nutritional value in comparison to snacks that are deep-fried in oil.
10. Replace spicy snacks with roasted chickpeas
There are many types of spicy snacks that are available in the market. And they are ready to eat. That's why many people like to have spicy snacks in the evening and during night time. As ready-to-eat spicy snacks fall under junk food, eating them often can be bad for your health.
But if you want to eat some crunchy, salty and spicy snacks in the evening, then you can easily prepare some homemade roasted chickpeas.
11. Replace fried chicken wings with baked chicken wings
During the week on many occasions when you want to have a snack you might want to order some fried chicken wings. But are fried chicken wings healthy?
Any food when deep fried loses many of its nutritional properties. And if fried for a long time in the oil then it can become unhealthy.
Apart from different cooking methods, there is not that much difference in taste between fried chicken wings and baked chicken wings. In most cases, baked chicken wings might taste better. But food tastes are subjective because different people have different tastes in food.
But the point is – baked chicken wings are much healthier than fried chicken wings.
If you want to eat some chicken wings then why not try baked chicken wings a few times to find out if you like them or not?
12. Replace desserts with apple slices with peanut butter
Finding the right healthy snacks to replace junk food can be time-consuming. But don't worry after this there's one more item on this list.
Desserts are full of calories and sugar. And it can't be said from any corner that desserts are healthy. If you want to consume a healthy amount of calories and want to stay in shape then at any cost you should stop eating sugary desserts.
You can replace desserts with apple slices with peanut butter. It can take you a few minutes to prepare the dish but it's healthy.
13. Dry fruits, nuts and raisins 
There are countless fast food snack options and a person who is not fond of eating them has less knowledge about their existence.
But I know if you are looking for healthy snacks to replace junk food then you want something ready to eat like most packaged fast food snacks. And there's also one vital characteristic and that is it needs to be something that you can carry around.
So if that's the case then dry fruits, nuts and raisins are something you need to try.
When you mix them up and eat them they do taste great and you can eat them whenever you feel hungry. As they are dry food you will have no problem carrying them.
Switching from junk food to healthy food
The taste of junk foods is perfected before it comes to the market. And most junk foods are habit-forming. Once you make a habit of eating junk food daily then it's hard to stop eating junk food all at once.
The best way to stop eating junk food is to replace it with healthy snacks.
But when you are switching from junk food to healthy food you need to carefully select that food that also tastes good in your mouth.
In the beginning, you don't need to eat every snack which is 100% healthy. But the healthier the better.
Once you replace junk food with healthier snacks for 2-3 weeks then it will break your habit of eating junk food.
The moment eating junk food is no longer your daily habit you are much more likely to enjoy other healthy food options. And when you do that you will start your journey of eating healthy and you will get the benefits of eating clean.
Conclusion
If you were searching for some tasty healthy snacks to replace junk food then I think you have found the above list helpful.
There are many consequences of eating junk food. When you replace junk food with these healthy snacks then it will help you live a healthy lifestyle.
When you stop eating junk food at night or during the day you can maintain a healthy body weight and you can avoid depositing unwanted body fat.
Replace your junk food with these healthy snacks and you will find positive changes in your body within a few weeks.
Check out other trending articles from Matey Lifestyle. Visit – cover page. Want to stay updated about our new posts? then subscribe here.